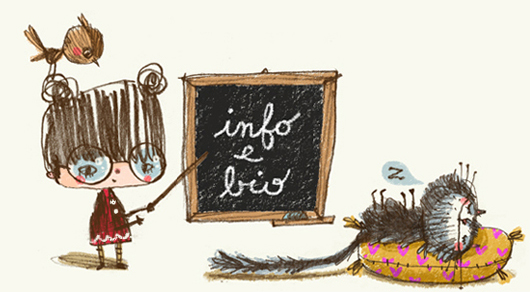 ITALIANO

DECO
I'VE STARTED MY EXPERIENCE AS A CARTOONIST IN 2OO1. AUTHOR OF COMIC STRIP "INKSPINSTER" PUBLISHED WEEKLY ON: WWW.INKSPINSTER.COM, AND BALLOONS.
THREE COLLECTIONS OF MY COMIC STRIPS WERE RELEASED IN 2003, 2008 AND 2017
I'VE RECEIVED AWARDS IN ILLUSTRATION, SATIRE AND COMIC CONTESTS.
I CREATE ILLUSTRATIONS FOR BOOKS, KIDS MAGAZINES, WEBSITES, NEWSPAPERS.
ESPECIALLY INTERESTED IN ILLUSTRATING CHILDREN BOOKS, AVAILABLE FOR COMMISSIONS FROM AUTHORS AND PUBLISHING HOUSES